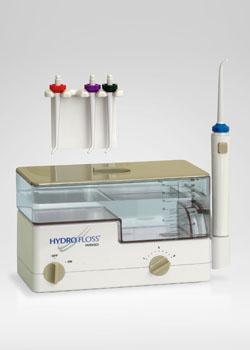 Free Shipping in The United States

Phone Orders: 888-586-6849
"Hi David, Just wanted to let you know about my success!  Thanks to finding you through Twitter and ordering the Hydro Floss, my gums are healing very nicely. " Sharron C.
I've asked  a lot of people about how the Hydro Floss has helped them and I would guess upwards of 97% of them tell me that it has really made a difference!
The power of the Hydro Floss comes form its patented magnetic technology that places a charge on minerals in tap water. This charge causes bacteria and plaque to become less adhesive to the teeth and gums.
This is why the studies have shown a significant decrease in plaque and bacteria build up between office visits when compared to other irrigator.
The Hydro Floss should be your irrigator of choice!