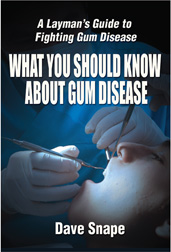 This is a hard hitting e-book that tells you precisely what causes gum disease and what you must do to prevent it or fight an existing case.
Inside you will discover how professional care and home care work together to help save your smile from deteriorating. Learn about specific tools that the author has used for keeping his gums healthy at home.
How often should you have a professional cleaning done? What is periodontal surgery like? Can you avoid it? What can you do besides regular brushing and flossing to keep your gums healthy? Which professionals are the best for caring for the health of your gums?
All of this and more awaits you inside. Sit down, pull up a cuppa and enjoy your time and learn something that 80% of adults need to know to help make their lives happier and healthier.

Read more about this book Here
To Your Good Health!,
David Snape
Author: What You Should Know about Gum Disease
PS: Once you have read the book, please feel free to send me your feedback. You can also ask any questions you may have right here at this location – just hit 'ask dave a question' (top right).
PPS: This is an e-book, that means you download it and read it at your computer. One benefit to an e-book is that you get it instantly, there is no wait for it to arrive in the mail.