Here are some of the products and tools that I have personally found to be useful in fighting gum disease –
Be sure to use coupon A-PER10 to get the best deals for the items on this page.
The Hydrofloss – This is an oral irrigator that utilizes hydromagnetics to remove more of the plaque than a non-hydromagnetic irrigator. The proof? Read on:
According to a study published on the Journal of Clinical Periodontology (May 1993; 20: 314-317) titled "The effect of Oral Irrigation with a Magnetic Treatment Device in Plaque and Calculus,- the group using an oral irrigator with a magnetic device showed a 44% greater reduction in calculus volume and a 42% greater reduction in area over
the group using an non-magnetic oral irrigator.
I used the hydrofloss and it stopped my gums from bleeding while brushing, flossing or visiting the dentist.
Coupon Code A-PER10 gets you the best deal I know of on the hydrofloss at this site: https://tobeinformed.com/hydrofloss – This deal includes a cost of only $89 (this is the best price by itself) plus free shipping (another cost savings) plus AktivOxygen included (only place I know that offers this) All of that combines to make the best deal.
You can read my review on the hydrofloss for further information.
Oxygenated Mouthwash: This is a stable oxygen compound mouthwash. The oxygen has the ability to arrest the cellular metabolism of the bacteria that cause bad breath or gingivitis / gum disease. Once this happens the bacteria will die. That is why they are called anaerobic bacteria (anaerobic roughly means – anti-oxygen)
In addition, this mouthwash is very soothing to the gums as it contains Aloe Vera. I like the feeling I get when I use this compound.
The mouthwash also contains zinc gluconate and ubiquinone. Ubiquinone is also known as Co-Enzyme Q-10. Co-enzyme Q-10 is often considered to improve gum health. Healthier gums are more resistant to disease.
You may use coupon A-PER10 for the mouthwash as well, so long as the total of your order is greater than 20$.
You can also use the A-PER10 code to get the Complete Gum Care Kit that includes the mouthwash, toothpaste (which contains pyrophosphates for fighting gum disease) and two trays to help keep the toothpaste in contact with your gums longer.
The kit also includes a special report that tells you how to fight gum disease.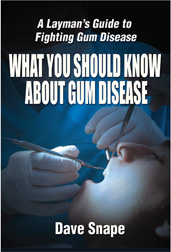 What You Should Know about Gum Disease is a gum disease information packed book that I wrote to help others who encounter gum disease.
Unfortunately, we don't always get all the information we need or want from our care providers. I wrote this book out of that frustration.
You can read about my experiences plus the solutions I found that worked for me.
Only 17$ Buy Now
* This post is for information purposes only. Visit your dentist for treatment and diagnosis if you have or think you might have gingivitis, gum disease or any other oral health problem. The products and statements about them have not been evaluated by the US FDA.