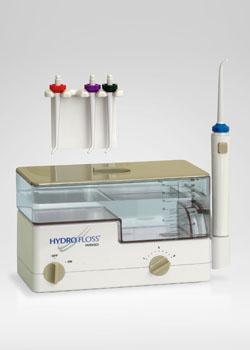 With Coupon Code A-PER10 you will receive a brand new Hydro Floss, free shipping, Aktiv-Oxigen Serum, PerioTherapy Toothpaste, an e-book, a special report, a video on how to use the Hydro Floss, a warranty and a 30 day money back guarantee. See Details below.
You'll get the Hydro Floss for the lowest price that the Hydro Floss company allows their premiere dental health device to be sold for – $98.
All of the other items mentioned are free with your purchase.
Here is a preview of what you will get with your purchase:
Active Oxygen Compound – ($20 Value) – You place 8 drops of this compound in the Hydro Floss reservoir. The Hydro Floss then delivers this oxygenated compound to your gums. Oxygen is dreaded by the anaerobic bacteria that cause both gum disease and bad breath. You'll be fighting and / or preventing both with this compound.
Perio Therapy Toothpaste – ($14 Value) – This toothpaste contains both the oxygenated compound as well as Aloe Vera, pyrophosphates (for preventing the build up of plaque), Zinc and Essential Oil of Peppermint. Read a review of this toothpaste.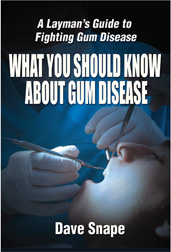 The e-book What You Should Know about Gum Disease. ($30 Value )You can read about this e-book here . This book will be yours at no additional cost. The Hydro Floss is one of the tools that I discuss in this book.

An additional quick start e-guide entitled, Fighting Gum Disease – ($10 Value ) – as you can see here.
An optional phone conversation with the author of What You Should Know about Gum Disease – ($50 Value )
I personally use the Hydro Floss daily, it was the first thing I found that stopped my gums from bleeding and started to make them healthy again.
I can't give you advice, diagnosis or treatment, but I can share my experiences of using the Hydro Floss and defeating gum disease with you.
It's up to you if you would like to use this bonus or not. You don't have to, but the option is there if you would like use it. There is no expiration date.
You'll also get free shipping, a warranty and a 30 day Money Back Guarantee.
This is a lot of value for your dollar and:
You'll get all of the above when using sale code A-PER10 here.
You won't find all of this being offered by others
This is the best deal on the Hydro Floss. You can get all of these items using the coupon code:
Check out here using sale Code A-PER10.
My Hydro Floss Story

I believe that the hydrofloss has helped to save my teeth. Being diagnosed late with gum disease, it became an absolute imperative that I find the best solutions quickly.
Unfortunately, that search has taken some time. Fortunately, one of the earliest things I found was the hydrofloss. This stopped my gums from bleeding even during regular dental cleanings.
Incredibly, my dentist and hygienist seemed quite surprised by my turn around. (they should have told ME what would work)
However, I know that I have to remain diligent from here on out to keep my teeth. Otherwise, gum disease will pick up where it left off in destroying the structure that supports my teeth and gums.
Fortunately, I have also found other products that I also use to help prevent gum disease from returning. You can read about these tools at
https://gingivitiskiller.com/in-a-hurry.html
If you have gum disease (which appears to be most people according to the Mayo Clinic's website) then you really need to take action to stop or prevent it from taking your teeth. Having dentures or implants is no substitute for your own natural teeth. If you can avoid the loss of your teeth (or any more of your teeth), it is worth the effort.
Now, many studies are starting to show how other diseases may be related to gum disease . If true, the gum tissue in our mouth is a critical defense point in preventing more than just tooth loss. Losing more and more gum tissue makes it that much easier for bacteria to invade the rest of body.
They could be using the infection in the gum tissue as a launching ground to reach the rest your body. This is something that I would want to stop immediately. I hope you can see how important stopping gum disease may be.
Here are the products I'm currently using ( in addition to normal flossing and brushing)
Oh, yes, the whole point of this post is to tell you about a good deal.
You can get a hydrofloss, utilizing the amazing (coupon code) A-PER10 at this location. A-PER10 gets you free shipping, Aktiv-Oxygen compound, Periotherapy Toothpaste, the e-book, the special report and the phone conversation with the author – all for the low price of $98.
Often times, the Hydro Floss sells for $99 or more and usually without even free shipping on other sites. But, you also get the AO compound, toothpaste, e-book, special report and phone conversation with the author here.
Therefore, I believe this is the best deal on the hydrofloss you are going to find, but only if you use the amazing code A-PER10 here.
You might pick up additional oxygenated formula while you are there too. The discount code is good for it too, so long as the total order at checkout is 20$ or more.
You can find some additional, dynamite nuggets of priceless info on the hydro floss oral irrigator in this article.
*please note – this coupon code is only good for people living in the United States. If you want a hydrofloss that operates on the 220-240 Volt systems used around the world, use this link instead. Hint: Go to 'oral care' when you get there and then you will see the 220-240 volt hydrofloss machine.
* The download links for your e-book, What You Should Know about Gum Disease and your quick start guide entitled, Fighting Gum Disease as well as directions for setting up the call with the author should arrive in your e-mail within 1 hour of your purchase.
If it does not for some reason, simply send an e-mail to David @ tobeinformed.com with the subject line, Hey, send me my e-book and bonuses. I'll send your links and directions out pronto, once I verify your purchase.
The e-books are digital, you will not receive hard copies of the books.
The phone call is optional for you, not mandatory. This means that you are entitled to the call if you choose to use it. (Which you should – you earned it after all)
If you know of a better deal, please let me know by using the comment section below or the site contact form.
Warm Regards,
David Snape
Author: What You Should Know about Gum Disease
available at: https://GingivitisKiller.com
Questions? Phone 913-269-6952
PS. If you don't want to order the Hydro Floss online you can order by telephone .
Please also note: If you have or think you might have gum disease, visit your dentist for advice, diagnosis and treatment. This post is for information only. The US FDA has not evaluated the statements about any products on this site.
Picture of mild gum disease