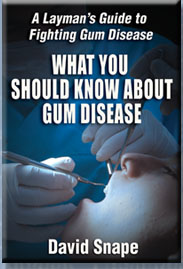 One day I was informed by my hygienist that I needed a Scaling and Root Planing (SRP) treatment. Since that fateful day when I declined treatment and looked for my own solution, I have written a book and have learned a great deal about stopping the progression of gum disease and preventing it from coming back.
The unfortunate reality is that many people have this problem and do not realize it. One day, a tooth or multiple teeth may become loose and that is how many people discover the disease. Often the dentist will want to pull teeth and install implants or dentures.
As a patient and consumer I was left very dissatisfied with two important factors. One, the dentist let this problem progress without giving me any viable way of stopping it. Two, she waited until things got out of hand to tell me I needed this 'special' treatment.
I certainly do NOT suggest that you reject your dentist's treatment plan. I am merely stating that was a personal choice that I made – and it paid off. However, everyone's situation is different and you need to seriously consider your doctor's plan and if you are not happy, go get a second or even third opinion.
A little known fact (with consumers that is) is that you can go to three different dentists and get three very different opinions about what needs to be done. This is a fact that practicing dentists are aware of. However, I have never had a dentist tell me this – I found out for myself. Since then, I discovered that this phenomenon has actually been studied and documented.
The use of an oral irrigator may be helpful for those who do not respond to brushing and flossing (which is the majority of people). These simple techniques are what we have always been taught about prevention since we were children. However, if they really worked, up to 80% of the population would not be suffering from this dental disease, would they?
Therefore, do not fall in to the trap of believing that you are a victim of poor dental hygiene. That could be the case for some people. But, again, brushing and flossing are not enough to prevent problems in the majority of people. Do not blame yourself too terribly, you are not alone.
All of this means that you should take the time to educate yourself about dental health and what works beyond the basics that everyone already knows about stopping gum disease and other dental problems.
Disclaimer: This article is for information and entertainment purposes only. It does not intend to render advice, diagnosis or treatment. If you have or think you might have gum disease or any other health problem, visit your periodontist or physician for advice, diagnosis and treatment. The US FDA has not evaluated statements about products mentioned in this article.
Comment below if you want to share a related story or just have a point to make!
David Snape is the author of the book: What You Should Know about Gum Disease . ISBN: 978-0981485508 – Available online at most book retailer sites. It can also be ordered by most book stores. He also runs the dental health store: https://www.ToothyGrinsStore.com where you can learn more about dental health tools.
Advert: St Patrick's Day Costumes – Contact if you would like to advertise here.